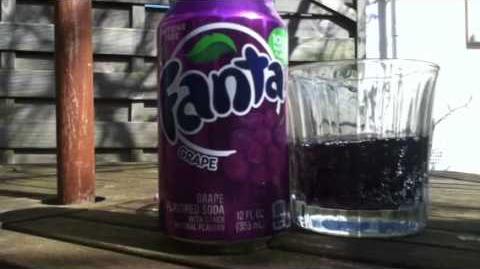 Fanta Grape is a delicious grape flavoured soft drink. Fanta Grape is one of the main flavours of Fanta around the world.
You can get it almost anywhere for a reasonable price.
Fanta Grape is for those with a passion for purple! The crisp, sweet and refreshing taste of Fanta Grape is pure bliss. If you're a fan of the smooth texture of Fanta, you're going to love this flavour. So delicious it should come with an addiction warning!
Availability
Edit
Fanta Grape is available in the following countries:
Australia
Brazil
Canada
Chile
China
Colombria
Dominican Republic
Ecuador
Ghana
Grenada
Indonesia
Ireland (Import)
Israel (Retired)
Japan
Latvia (Retired)
Malaysia
Mongolia
New Zealand
Norway
Philippines
Singapore
South Africa
Sri Lanka
Taiwan
Thailand
Trinidad
Tunisia
UK (Import)
USA
Ad blocker interference detected!
Wikia is a free-to-use site that makes money from advertising. We have a modified experience for viewers using ad blockers

Wikia is not accessible if you've made further modifications. Remove the custom ad blocker rule(s) and the page will load as expected.