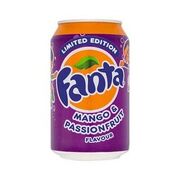 Fanta Mango and Passionfruit first arrived in the UK in 2012. It was made as a limited edition flavour but by public demand, it was announced in 2013 that it would be a perminant flavour.
The taste is slightly artificial and sugary but is still a success. Watch our review on the right to see the colour of the can and our opinion on the flavour.
Availability
Edit
Fanta Mango and Passionfruit has been available in these countries:
Ireland (2013 Limited Edition)
Italy (UK Import)
Luxembourg (Limited Edition)
United Kingdom (2012-Present)
Ad blocker interference detected!
Wikia is a free-to-use site that makes money from advertising. We have a modified experience for viewers using ad blockers

Wikia is not accessible if you've made further modifications. Remove the custom ad blocker rule(s) and the page will load as expected.